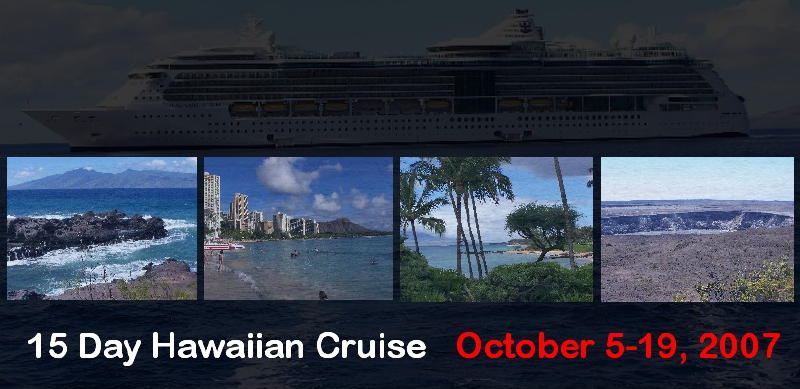 San Diego, CA · The Serenade of the Sea · Ship's Shows and Activities · Cruz Doggies · Kailua Kona, Hawaii
Kahaina, Maui · Hilo, Hawaii · Honolulu, Hawaii
San Diego, CA
Port of Departure for Cruise
October 4, 2007
Dennis and I flew in from San Francisco Thursday night, October 3rd, 2007. Our friends Bobby and Barry from New York drove into San Diego during the day. They had taken the long flight from New York to Los Angeles. The group of us had fun the next day taking time to visit the USS MIDWAY (CV-41) and some hot San Diego night spots. I was stationed aboard the USS MIDWAY from 1985 to 1988 while it was homeported in Japan. I had the opportunity to take some cruises on her to Austrilia and Hong Kong but they were not pleasure cruises by any means.

- Dave McGrath-Wagner
(from left to right), San Diego Waterfront, night time in San Diego's Hillcrest District and the USS MIDWAY (CV-41)
(from left to right), Dave ringing the ship's bell, flight deck of USS MIDWAY, Dave posing on a helicopter.
(from left to right), area of ship where the ship's anchor is dropped, Dennis sitting in the pilot's seat and Bobby & Barry having fun in the big chairs of the ship's boss and mini boss.

The Serenade of the Seas
On October 5th, 2007 we boarded the beautiful Serenade of the Seas for a 15 day Hawaiian Cruise. The moment we got onboard it was magic. We hope you enjoy the pictures of the different areas of the ship and of some of the activities we saw take place during the cruise.
Pictures taken of the ship while in Maui, Hawaii.
(from left to right), Solarium Cafe, Solarium bridge & pool, pool and sleeping passengers. What a life.
(from left to right), entrance to Chops Grill, dining area and picture of a served salad plate. Chops Grill is one of two of the Serenade of the Seas' specialty restuarants for fine dining. We ate at this restuarant and it was well worth it.
Pictures of the Scooner Bar. This is one of my favorite places to enjoy an evening drink after a rough day of swimming and tanning by the pool.
Bobby, Barry and Dennis relaxing having drinks with a view of the ocean from the back of the ship.
(from left to right), Ship's Library, Sports Court and Lattetudes bar.
(from left to right), Sports Bar and another lounge. The Sports Bar was fun with video screens all over the place. The spot to get the updated sports news of the day while miles away at sea.
Pictures of the Centrum and bar.
Pictures of the Vortex Lounge. This is the place for disco dancing and fun times at night.
Pictures of some of the beautiful art work displayed throughout the ship.
(from left to right), Windjammer Cafe, Pool, Reflections Dining Room

IT'S SHOWTIME
We attended some of the shows at the Tropical Theatre during the cruise. There were shows on most nights and they were good. We tend to favor Broadway Production type shows the most but we can appreciate a good comedian too. We did not take pictures at all the shows but below are a few we hope you enjoy.
Production Showtime - "STAGE To SCREEN"
Day 2 - October 6, 2007
Pictured below is Cruise Director Carly Boileau and the Royal Caribbean Singers and Dancers on stage. They did a fine tribute to the great Broadway musicals.
The Songs & Comedy of International Star
JUDY KOLBA
Day 4 - October 8, 2007
Zanny Comedy & Impressions of
JOEY VAN
Day 6 - October 10, 2007
Singing Group
THE DIAMONDS
Day 8 - October 12, 2007
The Diamonds gave a very good concert. Most in the audience knew the words to the songs from the 50's and 60's.
Visit The Diamonds official website to learn more about this fine entertainer.
Royal Caribbean Singers and Dancers in
VIBE OLOGY
Day 12 - October 16, 2007
The Motown Music and Memories of former member of
the Drifters, Mr. Loop De Loop...
JOHNNY THUNDER
Day 13 - October 17, 2007
Visit Johnny Thunder's official website to learn more about this fine entertainer.
The Piano Wizardry of
GARIN BADER
Day 14 - October 18, 2007
Garin Bader gave a good show with his good piano playing and magic tricks he performed. He asked for a volunteer and called upon Barry to come on the stage to assist him. Pictures below show Barry getting some instruction from Mr. Bader. The women gets tied up with rope and still manages to get Barry's sport jacket on while the rope is tied around her.
Visit Garin Bader's official website for more information.
"Until We Meet Again"
Our Farewell Show
starring
MARK PRICE
Day 15 - October 19, 2007
The Farewell Show was most enjoyable. Mark Price gave an amazing performace. The Captain along with his staff and crew come on stage to applause from the crowd for a job well done.

CRUZ DOGGIES
We hope you enjoy pictures of your wild and crazy cruise doggies out about the ship during the cruise.
(left to right), Dennis at the Welcome Aboard Reception, Bobby & Barry and Dennis grabbing a bite at the Hawaiian Pool Deck party. They (ship's cooks and crew) really know how to put out a great spread.
(left to right), Dave in the water, Dennis taking a break from the pool and a group picture with Bobby, Barry, Cruise Director Carly, Dennis and Dave. We enjoyed meeting Carly and she and her staff did a superb job on this cruise.
(left to right), Dave and Bobby line dancing, Dennis teaching a napkin fold and Bobby doing the same with another fold to use as the dinner table. We enjoyed the Napkin Folding session that was conducted by one of the Cruise Director's staff. Dennis and Bobby volunteer as special guests to teach some additional napkin folds.
(left to right), Dave participating in a circle hat game at the Country Dancing event and Dave posses with the statue. The Circle Hat game was one crazy time. Dave and Bobby ended up being the last two guys on the floor with one hat being pulled back-n-forth.

PORTS OF CALL
Kailua Kona, Hawaii
Day 6 - October 10, 2007
This is Ho'okena Beach Park. The first place we visited along with some beautful shoreline ideal for snorkling.

Lahaina, Maui
Day 7&8 - October 11-12, 2007
The ship stayed in Maui for two days. We visited America's top rated beach in 2006 and snorkeled in one of the best places in the world. The sun was great and the water spectacular. We did a little shopping too. Everyone came back on the ship in those Hawaiian shirts.

Hilo, Hawaii
Day 9 - October 13, 2007
Our day in Hilo, Hawaii was spent visiting Volcanoes National Park. The pictures below were taken during our visit along the crater rim. We enjoyed the desert areas and seeing the Thurston Lava Tube located in the rainforest.

Honolulu, Hawaii
Day 10 - October 14, 2007
Our one day stay in Honolulu was spent primarily on Waikiki Beach. We took a catamaran cruise off the beach and enjoyed a few Mai Tai's. Dennis and love this place because there is a lot to do during the day and plenty of night life.

We hope you enjoyed viewing the pictures. Each cruise we take there are little things we notice that catch our attention. This cruise was no exception. The service and attention by staff on this ship was a high point, particularly the waiters at our evening dinings and our stateroom attendants. We found that staff were most helpful and took the extra steps to please beyond what was required. The ship is one of the best maintained and beautiful ships we have cruised on with Royal Caribbean. Overall, we give this cruise an A+ when considering the service, food and entertainment provided onboard. Dennis and I along with our friends from New York had a great time.

- Dave McGrath-Wagner
Visit the Cruise Critic web site for opinions of other people who have been on cruises.
Visit the Royal Caribbean International web site for more information.

CREDITS
Text for some titles in sections of this web site are shown using script provided by Flamingtext.com
All contents ©2001-2007 by McGrath-Wagner.com. Reproduction in any form prohibited without written consent of McGrath-Wagner.c om.
Contact McGrath-Wagner.com for re-publication permissions.