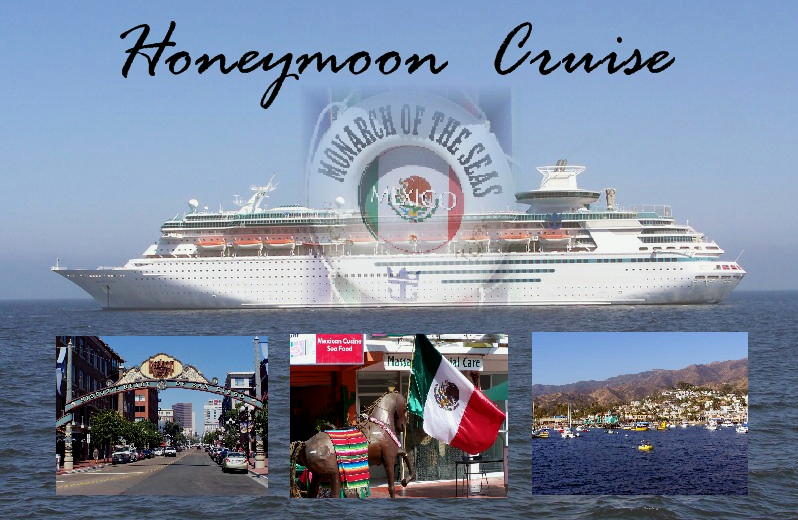 San Pedro, CA · The Monarch of the Seas · Ship's Shows and Activities · San Diego · Ensenada, Mexico
Catalina Island
San Pedro, CA
Port of Departure for Cruise
September 19, 2008
Dennis and I flew in from San Francisco on September 19th for for two back-to-back Mexican Baja cruises onboard the beautiful Monarch of the Seas. Ports visited on both cruises included San Diego, CA, Ensenada, Mexico, and Catalina Island. The first cruise was three days and the second four days. We got married on September 12, 2008 and celebrated on honeymoon on the second cruise. We hope you enjoy the pictures below taken on both cruises.

- Dave McGrath-Wagner

The Monarch of the Seas
On September 19th, 2008 went aboard beautiful Monarch of the Seas for two back-to-back cruises over a span of 7 days. This was the first ship Dennis and I both cruised on in 2004. Various pictures of the ship below including a celebration of our honeymoon on the second cruise.
Dennis and I celebrated our honeymoon with a toast in our suite. The suite was really nice with lots of storage space and a great balcony.

IT'S SHOWTIME
We attended some of the shows at the Sound of Music Theatre during the cruise. The shows were very good and we particularly liked the Caribbean dancers and singers. Below are some pictures we took at the evening shows.
Welcome Aboard Show
The Comedy of Mike Wilson"
September 19, 2008
Variety Showtime
Starring Johnnyo
September 20, 2008
We attended another fine show. Johnnyo was the featured entertainer. He performed some music and during one part of the show asked for some volunteers to join him on stage. Wow, I always wondered what it was like to be in the spotlights with a band playing behind you. The experience was fun and most comical for everyone on stage and in the audience. I'm not quitting my day time job anytime soon. Johnnyo is also the Cruise Director for the Monarch of the Seas
Production Showtime
Royal Caribbean Singers and Dancers in
Signed, Sealed, Delivered
September 21, 2008
This was the one production show performed for the first of our two cruises aboard the Monarch of the Seas. The music was uptempo and the performers were singing and strutting their stuff. The last few pictures were taken as part of the farewell part of the show.
Starring the Singing Impressions of
Alturo
September 22, 2008
Alturo give a good show and did some good singing impressions of Bill Cosby, Stevie Wonder, Temptations and more. He asked for some volunteers to help him perform a song by the Temptations so I volunteered along with a few other guys. It was one fun time for all of us.
Visit Alturo Shelton official website to learn more about this fine singing impressionist.
Farewell Production Showtime
You Can't Stop the Beat
Starring Royal Caribbean Singers and Dancers
September 25, 2008
Dennis and I sat in the first row and enjoyed watching the singers and dancers up close. Another good show and we have grown to expect from the Royal Caribbean singers and dancers.

SHIP's ACTIVITIES
During cruises there are a lot of activities in participate in or watch. Below are pictures taken of various activities such as Bingo with Bingo Dan, Ice Carving, Belly Flop Contest and more. You can can't be at all of the activities but a make a few here and there. Dennis and I participated in the Bean Toss competition by the pool but no comment on how we did. I think I was focused more on watching the staff at the other side of the pool set up for the BBQ.

-- Dave McGrath-Wagner
Chocolate Buffet in the Centrum
September 24, 2008
Dennis' favorite flavor is chocolate and he was in heaven during the event. Most cruises that we have taken generally have a midnight chocolate buffets. The food decorating is always most remarkable along with the taste of the chocolate deserts.
Barbeque Pool Party
September 25, 2008
Life is great on any cruise when it comes to the food. Dennis and I enjoyed two pool side BBQs on the cruises. I ate a full plate of food during this one and then an hour later ate dinner. Life's tough on a cruise but somebody has to live it.
| | |
| --- | --- |
| | |
Formal & Casual Dinners
September 19-25, 2008
Dennis and I really enjoyed out first seating for dinner each night during both cruises. We met some really nice people from the Southern California region. It is always enjoyable to meet people from different walks of life and share stories about the happenings each day. Must cruisers we met were on their first cruise.
Honeymooners Get Together in the Boleros
September 23, 2008
Dennis and I decided to attend the event and we enjoy ourselves. The ship offered a very nice cake and champagne to celebrate the honeymooners onboard the ship. We met a few other honeymooners. We were the only gay couple in attendance. The Cruise Director's Staff made us feel most welcome and congratulated us on our marriage.
Ice Carving
September 25, 2008
We are always amazed at the skills some of the chefs have with carving ice. Each cruise we find a different animal carved. We've found that most of the finished ice carvings can be found at various parties and receptions around the ship.

PORTS OF CALL
San Diego, CA
September 23, 2008
Our visit to San Diego was most enjoyable. I noticed the USS MIDWAY just as the ship entered port. I was onced stationed on the war ship which is now a floating museum. There were free shuttles provided to take ship passengers to the shopping areas and we took advantage of the opportunity to do some picture taking and visit the stores.

PORTS OF CALL
Ensenada, Mexico
September 20, 2008 and September 25, 2008
Dennis and I visited Ensenada, Mexico a few times on other cruises so we just walked around town and did a little shopping.

Catalina Island
September 24, 2008
Catalina Island was very pretty and we enjoyed great weather during the brief visit to the island. We have never been to this place and it was very relaxing time visiting the shops and enjoying the scenery. You need to rent a vehicle to make the most of exploring the island.

We hope you enjoyed the pictures on this page. We have previously cruised on this ship visited all the ports except Catalina Island. We found ourselves really in relax mode during the cruises. Dennis and I are generally more active in shipboard activites but elected to spend the honeymoon more to ourselves. Each cruise we notice things that really made our cruise most pleasant. The staff aboard the Monarch of the Seas seemed most attentive to our needs whether it's a drink in the Schooner Bar or greeting us everywhere we go by saying "Good morning" or "Good to see you". They really made us feel special. We commented and took time to recognize our fine Dinner table waiters on both cruises, a fine bar waiter in the Schooner Bar and staff located at other parts of the ship during functions. Customer service was number one on this ship and that seemed to catch our attention the most. The ship production shows were very good and the overal schedule of activities made it easy to attend our favorite function. Overall, we give this cruise an A+ considering the food, room service, entertainment and activities, customer service. We will miss the Monarch of the Seas as we do not expect to see her again. The ship is shifing coasts and it's one of the older ships in Royal Caribbean's fleet.

- Dave McGrath-Wagner
Visit the Cruise Critic web site for opinions of other people who have been on cruises.
Visit the Royal Caribbean International web site for more information.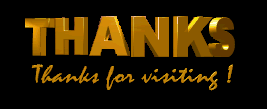 CREDITS
Text for some titles in sections of this web site are shown using script provided by Flamingtext.com
All contents ©2001-2013 by McGrath-Wagner.com. Reproduction in any form prohibited without written consent of McGrath-Wagner.c om.
Contact McGrath-Wagner.com for re-publication permissions.