In 1992 I decided to try something new and refreshing called freestyle wrestling. The last time I ever stepped onto the mat was in gym class while in 5th grade. I recall being pretty good at wrestling until I had to compete for top honors with a guy three times my weight. Well needless to state I got crushed. One a Tuesday evening in 1992 I attended a practice session of the Golden Gate Wrestling Club (GGWC) in San Francisco, CA. My first time on the mats with GGWC wrestlers Ace, Gene, Larry, Les and Marti was the start to something very fun and exciting. I remember my weight was only about 145lbs and I was feeling a little scared. My legs were perhaps the only strong part of me otherwise I was not one with a wrestler's build. Most people think of wrestlers as basically being big and strong muscle jock types. A year or so later and I was beginning to get some understanding of wrestling. I earned the nickname "spiderman" because I would spread my body out and be difficult to turn me over while in the turtle position in wrestling. Though it all I never managed to really come up with a good take down move or two to successfully win matches. I enjoyed the sport of wrestling and most of all the friendships developed along the way.
Some of my personal accomplishments date back to April of 1993 when I participated in my very first competitive wrestling matches at the 60th Annual Far Western Freestyle Tournament at San Francisco State. My first match that day must have lasted as long as it takes to count to two. The second match went a little better with a window of opportunity to take down my opponent. The only problem was that I hesitated a bit too much and he made the first move in a takedown. My prize for the day was a nice black and blue shiner on my face and I wore it proudly. In 1994 I participated as a GGWC team member at Gay Games IV in New York City. The matches were held at NYU. The experience was very exciting in very way due to the competitive matches at the international competition. I enjoyed the opportunity to be a part of a very strong team that worked hard together in preparation for the Games. The team faired very well that year in the medals count. In 1998 I particitpated again at Gay Games V in Amsterdam. This time around I arrived to the Games with an injury I acquired at practice a couple weeks prior to arriving in Amsterdam. I did not do well at the Games though I was able to wrestle in three matches.
Pictures above of the three teams I enjoyed being a part at Gay Games in 1994, 1998 and 2002.
The Games in Sydney turned out to be very good for the Golden Gate Wrestlers. My fortunes were not so great as I got knocked out in my first match during the second half of the period. It was decided by tournament officials that I not return for health precautions. I am not planning to return to wrestling for the Gay Games scheduled in 2006 at Chicago.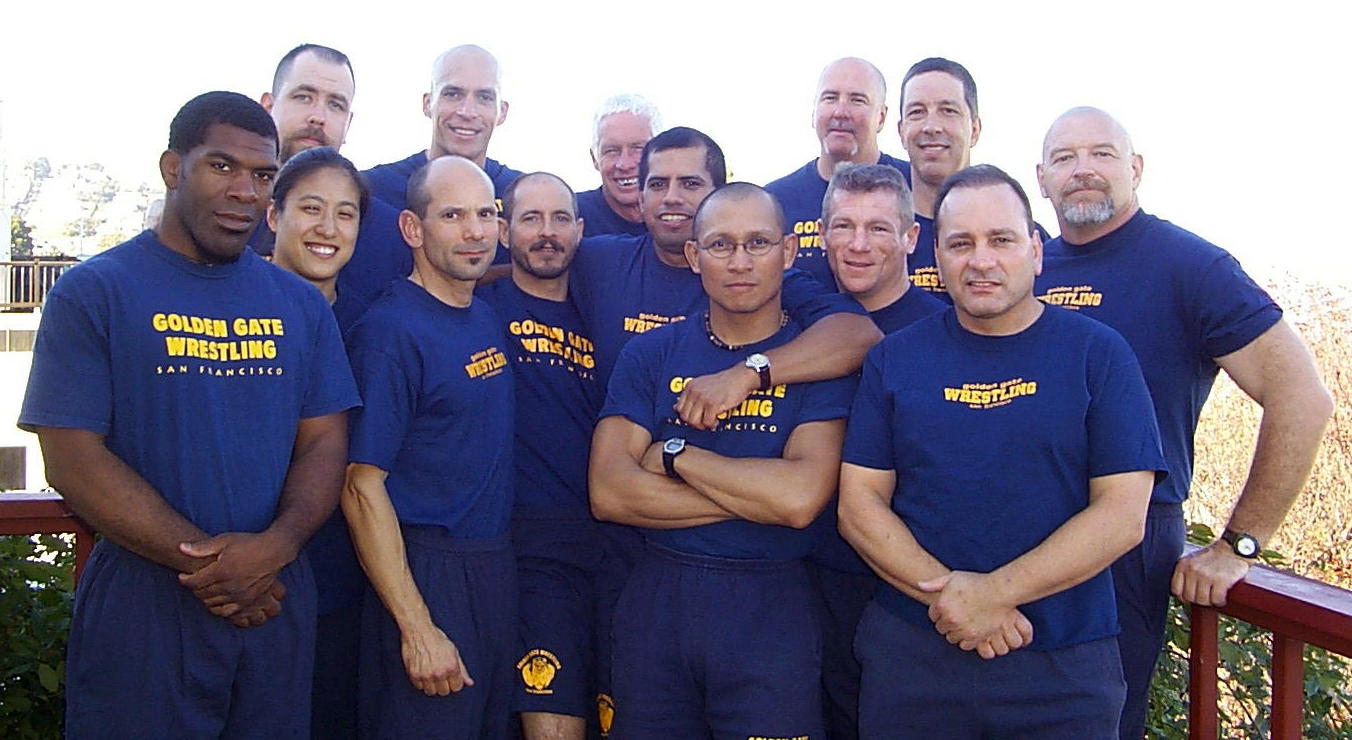 14 of 15 members of the Golden Gate Wrestling Club competed at Gay Games VI in Sydney in 2002.

If you would like to know more about the sport of freestyle wrestling or wrestling gear for your next match,
check out the web sites below:
The links below are for other wrestling clubs in the United States and in Europe:

CREDITS
Text for some titles in sections of this web site are shown using script provided by Flamingtext.com
Slide show script shown using script provided by Dynamic Drive DHTML code library
All contents ©2001-2009 by Dave McGrath-Wagner. Reproduction in form prohibited without written consent of
McGrath-Wagner.com.
Contact McGrath-Wagner.com for re-publication permissions.